Oraphim's Teamed up to Get Shungite to You!
The Oraphim Range of Products has such astounding results that we have these excellent folks able to offer you support/advice and our products in a variety of places, from Sheffield to Singapore!
Oraphim agents travel the uk to mind body spirit and other events, check the events diary for shows where we will be attending here.
Would you like to experience the joy of seeing your friends and family's faces light up as you bring them amazing silver infused shungite into their lives?
with this wholesale starter pack we include:
15 Pendants Selection of 5x droplet 5x Sacred geometry 5x sparkly
Pyramids 3/Cones 3 – 6.5cm Medium Amethyst x1 USB light up large x1
Stones for water 50gm x 10/elite 25gm x 10
5x 80gm soap/5x10ml Rescued balm/5x 30ml body butter
5x 150gm Bath salts
EMF Protection Stickers 3 pack x 5 & 9 pack x5
Water Toggles x10 & heart magnets x5
Polished Stones x10
Stud Earrings x12 & Keyrings x5 & stainless steel Ring x5
Here's what that collection looks like: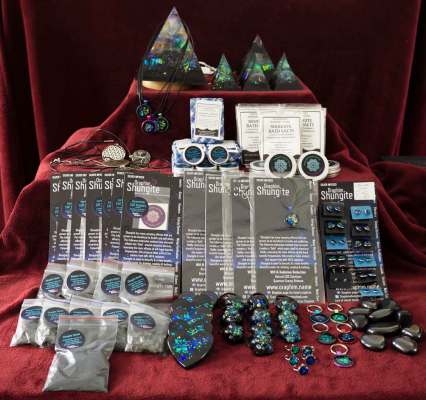 £600 Free uk P&P (international £40)
please contact us directly to order yours
us@oraphimshungite.com